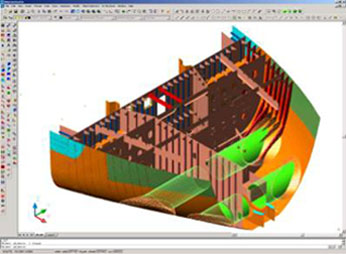 ... ....
Uses
| | |
| --- | --- |
| .. | ShipCAM's plate expansion routine has shown its power and reliability in successfully expanding more than 50,000 plates world-wide. Powerful plate expansion tool provides not only the expanded plate including all markings, but also forming templates, dimensional control drawings with deformations between frames, and colored strain maps. Shell Expansions for classification drawings, Pin Jigs drawings, and Inverse Profile Bending drawings complete this powerful lofting tool |
..
ShipCAM--光顺和放样
一个成功的项目事先需要的就是一个满足生产质量要求的曲面模型。在

ShipCAD

里面您可以从几乎任何船体设计系统输入曲面模型或者是利用自带的光顺系统来按照给出的型值表进行拟和。

Shipbuilding

的曲面优化功能可以很容易地生成一个完整的产品曲面模型所需的复杂形状。
...
Brief
..
Full 3D hull lofting and plate forming tools on a PC
Standalone or as Part of ShipConstructor
LinesFairing - fair hull surfaces to match towing tank performance
LoftSpace - build a 3D model, or import from other software.
PlateExpand - expand any type of plate & stiffeners
StringerCutouts - insert hundreds of cutouts accurately in seconds.
ShellExpand - create drawings for plate layout and class society.
InverseBend - accurate inverse bending curves for frame/ stringers.
PinJig - produce pin jig for accurate construction blocks assembly