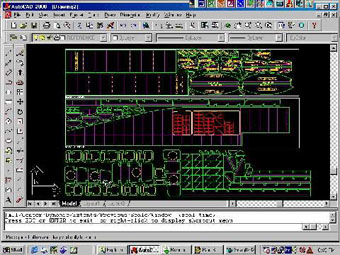 ... ....
Uses
| | |
| --- | --- |
| .. | AutoNEST is one of the most widely used OEM nesting software in the electronics and steel plate processing industries. It is well-proven and promises the savings of many man-hours of nesting iteration by draftsmen. If AutoNEST does not give you the perfect nest, one can still use Structure's powerful manual nesting tool (NEST) to tweak the nest configuration for maximum efficiency. ShipConstructor introduces SMART-BRIDGES to allow automatic re-nesting of changed parts without the need to break or re-implement the bridge |
..
AutomaticNEST--自动化套料


AutomaticNEST

是一个全自动化的套料系统。
整条船可在几分钟内完全自动化地套料各种钢材。
数据库也自动地通知用户任何被别个用户删改过的钢材。

AutomaticNEST

和中央数据库模块紧密结合,以分段、托盘、材料、表面处理、左右舷、相似/镜像切割以及全局残余控制的形式给出套料特征。该模块检查已经套料部分的更改情况的能力允许您在结构建模的同时开始套料。经过修改的部分能够随时进行定位和重新套料。这对于晚期的管道贯通作出之后的修改非常有用,大大地节省了生产时间。
...
Brief
| | |
| --- | --- |
| .. | Fully Automatic Nesting of all parts onto stock plates? Nesting thousands of parts just got a lot faster and easier with the automatic nesting feature. Use the proven AutoNest engine from Radan System Pte. to achieve high plate utilization. Simply select the AutoNest option when inserting the parts into the nest drawing, tell Structure what plates sizes to make available and then Structure and AutoNest handle the rest quickly and efficiently. After the automatic nesting is complete, all parts are inserted into the Structure nest drawing, just as if it had been done manually. |