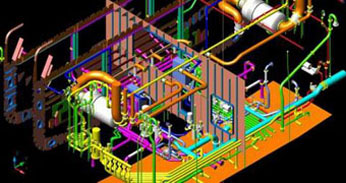 ... ....
Uses
..

管路与结构和舾装的干涉检查免除了生产的后顾之忧。三维短管图纸不仅可以自动生成而且可以自动标注尺寸,显著地减少了生产时间同时将错误降至最低。在任何时候,一个管道项目被创建、删除或者修改了,整个产品模型的重量和重心都会在不需用户干预的情况下马上更新。


TInterference checking against structure and outfitting provides worry free production. 3D spool drawings are not only automatically generated, but also automatically dimensioned and annotated reducing time-to-production significantly and minimizing errors. Naturally, anytime a pipe item is created, deleted, or altered, the weight and CG of the complete product model is updated immediately without user intervention.


..
Pipe--管道设计
Pipe

模块和其它的

ShipConstructor

模块是完全融为一体的,它允许管道设计部门和其它部门同时工作、同时共享所有的数据。在一个带有说明和线路的合理的管道目录的基础上,可以很快的生成一个三维管道模型,同时可以参考任意数量的三维结构图纸以保证管路没有冲突。
...
Brief
| | |
| --- | --- |
| .. | Easily design & check 3D piping in complex hull structure Pipe is fully integrated with the other ShipConstructor modules allowing the pipe department to work in parallel with other departments sharing all data in real-time. Based on a logical pipe catalog with specs and connections, a 3D pipe model can be quickly generated, referencing any number of 3D structure drawings to ensure collision free routing. |