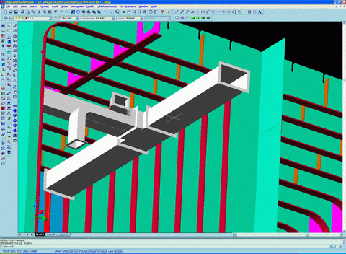 ... ....
Uses
..
Redesigned Navigator:
Simpler to use and more unit based functionality, accounts for the new modules.
All drawings are now template based to ensure that standards are maintained.
An improved registration procedure allows faster switching between units.
Users are able to see who has which drawings open.
Users can customize which modules they want to have access to.


..
HVAC--冷暖通风系统


全新的HVAC软件不但把冷暖系统的设计简化,而且也把空调系统和其他的船身结合相互配合。通过

ShipConstructor

的数据库,冷暖空调也成为船体设计的一部分。用户也可设计系统的支架,软件也可同时检查冷暖空调系统和其他钢管系统以及船身内部结构的干扰。
...
Brief
..
Fully integrated with the established Structure, Pipe and Outfit 3D product modelling modules, HVAC will aid your team in the complex task of ensuring that all systems work smoothly together in the typically restricted space available in ship hulls.
On-the-fly or from Catalog - HVAC ducts may be defined on-the-fly or selected from a "spec-driven" catalog.
Logical Connections - As with Pipe, HVAC items are logically connected and can be dynamically altered with all connected items adjusting intelligently.
Interference Checking - HVAC is fully supported by Interference Checking, making costly rework a thing of the past.
AutoCAD2004 Support